After recently getting my hands on Casio and Yamaha beginner keyboards, I wanted to try out a new brand that I've been hearing a lot but I believe not too many people know: Vangoa.
In this review, we'll be looking at the Vangoa VGD882, a budget 88-key folding piano designed with beginners in mind.
However, with incredible portability features, I think traveling or gigging musicians will also love this keyboard.
Let's jump to the article to see everything this Vangoa folding piano offers and decide if it's worth your money.
 
Coupon Codes
VANGOA has given discount codes for our international readers.
Use the codes below to get 10% percent off on Purple Vangoa VGD-882's in the links.
Amazon Germany: 10% off with the code F6OLCXY7

Amazon Spain: 10% off with the code TAP7BXS6

Amazon Italy: 10% off with the code 44QJUBJC
Design
Portability and minimalism are key to the Vangoa VGD-882's design.
The keyboard weighs only 9.7 Ibs (4.4 kg) and comes with a waterproof carrying bag that makes it very easy to travel with.
The carrying bag has a little pocket on the side, two hand straps an adjustable shoulder strap. I really like how functional this carrying bag is.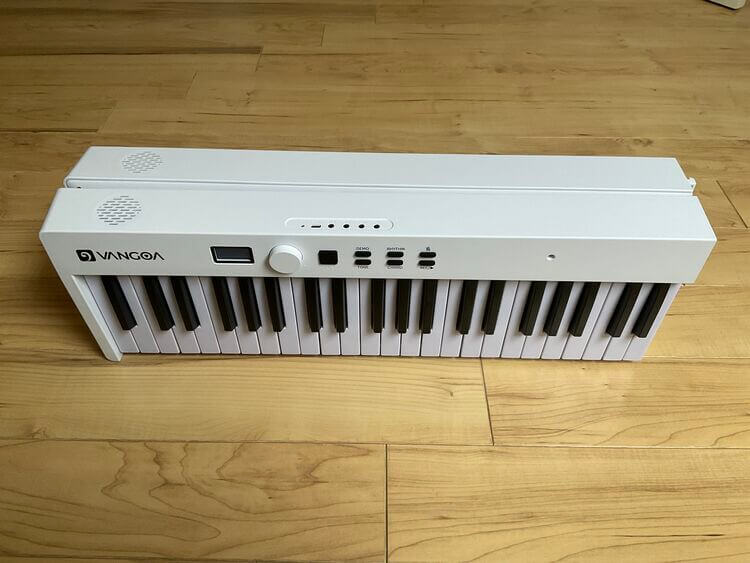 The most significant design feature of the Vangoa VGD-882 is that it's foldable, meaning the keyboard can be folded in half, put in the carrying bag, and moved anywhere very easily. I've always wanted to own a folding piano and it's even more practical than I imagined.
I normally carry my Yamaha P-45 to gigs or performances, but carrying this folding keyboard is way more convenient and easy. Because it has 88 keys and is foldable, I like that don't have to sacrifice the size of the keyboard for the sake of portability.
This keyboard features a rechargeable built-in lithium battery, which means you can take your piano anywhere without worrying about where to plug it in. When fully charged, the battery can last for up to 12 hours, which is quite a lot.
I really like the simple user interface. It is intuitive, minimalist, and easy to navigate. Going through the user manual takes very short, and even if you don't, all functions are quite clear and intuitive to find. There are only six buttons, a knob, and an LCD screen on the panel, and all functions are easily reached by this simple panel.
Vangoa VGD-882 is available in three colors: black, white, and purple. I opted for the white one but the purple one looks very interesting as well.
Keys
The VGD-882 boasts 88 full-sized semi-weighted keys. The keys are touch-sensitive, which is great for piano learning. While the touch sensitivity isn't very successful, it's sufficient for beginner players or playing at gigs.
This keyboard also features light-up keys, which is a very cool feature for beginners. With this visual learning tool, beginners are guided on which keys they should be pressing next while learning a song.
The best way to use light-up keys is by working with the demo songs on the keyboard in teaching mode or connecting to piano learning apps. The light-up mode can be turned off when you don't need it.
Sounds
This 88-key keyboard comes with 128 tones and rhythms, and 20 demo songs. The sound quality isn't the best but I can't complain much at this price. It's how it should sound in this price range and is indeed more than enough for learning the piano or casual playing for fun.
Overall, this keyboard delivers very a pleasant playing experience so the sound quality didn't bother me that much.
Speakers
There are 2 built-in speakers located at the back side of the keyboard. The speakers produce more than enough volume for practicing, though they will be insufficient for big spaces, and that's okay because it's not what this piano is designed for.
This folding piano keyboard can also be connected to headphones or an external amplifier if you need a louder volume.
Connectivity
On the back of the keyboard, there are 5 ports for connectivity: a type-C USB jack, sustain pedal input, a headphone jack, an MP3 jack, and a mic.
I think what makes this folding piano keyboard stand out is its Bluetooth connectivity options. With the Bluetooth MIDI function, you can connect the keyboard to piano-learning apps and start learning your favorite tunes.
With the Bluetooth audio function, you can stream audio from your tablet or mobile phone to the speaker system of the keyboard, which has become one of my favorite features. I really like being able to hear the music through the speaker system of the keyboard and jam along with my favorite songs.
Features
Functions
Here are all the functions available in Vangoa VGD882.There are everything a beginner will need and useful functions to make learning more fun and effective.
Metronome
Transposition
Tempo
Auto sleep
Chord function
Dual keyboard function
Dynamic function
Sustain function
Recorder
Teaching function
Vibrato
Keyboard Drum Function
Bluetooth MIDI and audio function
Chord Function
I'm having so much fun with this function! The chord function works with rhythms. When a rhythm is playing, this function automatically creates musical accompaniments based on the chords you are playing on the lower keys.
This function is very similar to the auto accompaniment feature in the Casiotones or the smart chord feature in Yamaha, and I'm surprised to see it in this budget instrument as well.
Teaching Function
This function is where the lighted keys come in very handy. Once you select one of the demo songs after activating the teaching function, the keys to play will be lit up. By following the lighted keys, you will be able to learn how to play the demo songs.
Pros
Extremely compact and portable
Lighted keys
Keys are semi-weighted and touch-sensitive
Affordable
MIDI and Bluetooth connectivity
Fun features for beginners
Cons
The sound quality is not the best
No pitch bend wheel
Conclusion
My final thought is that the Vangoa VGD-882 is a great value for the price and unbeatable in terms of portability. With its 88 semi-weighted keys, touch sensitivity, and light-up key feature, this keyboard is perfect for learning piano.
While the sound quality may not be the best, the 128 tones and rhythms, as well as the 20 demo songs, provide enough variety for playing and practicing. Add to that the versatile connectivity options including Bluetooth and MIDI, and you have the perfect piano keyboard for first-time learners or traveling/gigging musicians.
SOURCE FROM: wanderingtunes.com